Community Assistance Fund
The Foundation annually provides Rmb 20,000 to each CaringHeart Club to assist students in their community service work. Club members determine the most appropriate service project(s) to perform. The intent is to gain maximum civic good with minimum financial outlay. The efforts to judiciously select projects and utilize funds allow students to acquire decision-making and financing skills. The experience will give them a good foundation for future community service projects. It is also hoped such activities will spark interest in others to similarly engage in community works. The fund was established in September 2005, and the plan is to also provide this funding to the Cyrus Tang Foundation Alumni Club (see below). Some recent community activities include:
Anhui University CaringHeart Club – November 2006
The Club went to Fuyang City to visit a municipal organization which is set up to care for children affected by AIDS. The students brought along gifts of reading material, CDs, educational supplies, gloves, and miscellaneous items for daily use. The students also donated Rmb 1,700 to the organization.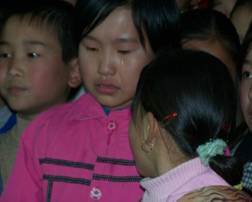 Beijing Normal University CaringHeart Club – April 2006
The Club visited the children of Sun Village and provided Rmb 2,200 for the purchase of pear and date tree saplings. Sun Village is an organization set up to look after children whose parents are serving prison sentences or children who are otherwise unsupervised. The trees will be cultivated by the children, and profits from the sale of the fruit will help defray Village expenses.