CTF Primary Schools ("CTF Schools")
Mr. Cyrus Tang is keenly aware of the maxim "The greater the level of poverty, the greater the need for education". In 1996, the Foundation began a nation-wide program of financing the construction/renovation of primary schools in impoverished rural areas. As of 2003, 251 CTF Schools were built in 12 provinces, helping the affected areas meet challenges in education.
In 2004, as part of the national policy on primary and secondary education, local governments have begun to assume a bigger responsibility for school funding. In addition, schools in remote locations are being consolidated. The Foundation supports the government policy; consequently we have suspended the CTF Schools Program. However, our school-construction activities continue under the "Pass The Torch" Rural Educational Assistance Program, where we work in conjunction with the government in building/renovating schools in four designated impoverished towns.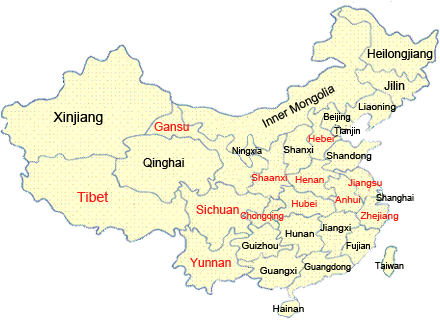 | Province | Schools |
| --- | --- |
| Jiangsu | 55 |
| Zhejiang | 34 |
| Anhui | 25 |
| Yunnan | 37 |
| Hebei | 18 |
| Hubei | 26 |
| Chongqing | 23 |
| Sichuan | 14 |
| Gansu | 13 |
| Tibet | 2 |
| Henan | 2 |
| Shaanxi | 2 |
| Total | 251 |